Here are 17 of the Best Gray Hair Instagram Accounts for Inspiration
Please note that this article may contain affiliate links. You can read my full disclosure at the bottom of the page.
If you need a little inspiration during your gray hair transition, check out these entertaining gray hair Instagram accounts. You'll be glad you did!
Look around you. Do you see a lot of gray-haired women? Not yet, right?
Well, the tides are turning and women of all ages are ditching the hair dye and embracing their grays.
But, depending on where you live, you might feel alone or isolated in your desire to go gray. You might be getting peer pressure from friends and family or downright rude comments from strangers.
Why Follow Gray Hair Instagram Accounts?
If you're feeling unsure about going gray and need some inspiration, or if you already are gray and need a boost, you should definitely get on Instagram.
On Instagram, you will find a whole community of silver sisters who will inspire you and support you through your journey to gray hair.
These are the Gray Hair Instagram Accounts Recommended by Your Silver Sisters
I polled my Facebook followers and the women of Silver Revolution to find out which gray hair accounts they follow for inspiration, and here are the results!
I was happy to be included among the Instagrammers to follow, as I relied heavily on pictures of other women to help me when I first stopped dyeing, and I'm overjoyed to find out that I've inspired others as well.
On that note, if you're looking for a place to begin, there's nowhere better to start than with @gray.and.beyond!

Terry has beautiful long gray hair and a winning personality and she likes to experiment with color, which is helpful for those who are going gray.
Nina at @Naturally-graysful is a shining light on Instagram. Her sunny personality will win you over!
@katiegoesplatinum is my account, where I try to convey how much fun I'm having during this transition. It's been a life-changing experience for me, and I hope you have a similarly transformative experience!
@saltandpepperpixie has some of the most beautifully composed selfies on Instagram. Marci has a great eye, and her feed is a pleasure to follow!
Joni @jd904 is very open and honest not just about gray hair but also about the regular joys and tribulations of daily life. It has been fun to watch her gray hair progress throughout the past year!
Carla from @silvergirlmx will wow you with her beautiful silver hair. She is also the Queen of Braiding, a feat that many of us can't master too easily.
For true glamour, @ondine_rumer is a must-follow. She has lovely dark silver hair, and she starts a lot of thought-provoking conversations, which is always a breath of fresh air on social media.
@marinatrevijano's account is so joyful! She travels all over the world while sporting a full head of long, beautiful silver hair. Marina's sense of color and fun permeate her feed.
Mandy May Cheetham, aka @mandamurhead, is an actress and the host of the fantastic podcast Going Gray in Tinseltown.

She has a lot to say about beauty and aging in our culture, and it's always interesting.
@littlespottedfawn is a great feed to follow both for silver sisters and for people who love vintage style.

She posts her vintage finds in her feed, and she has a great eye so it's always exciting to see what she has found.
@grey_so_what was one of the first transition stories I featured on this blog. Her Instagram account inspired me (and others) from the very beginning.

Sandrine proves that gray hair is no impediment to being sexy!
Michele from @polished_grey's transition is so beautiful, and her feed is so warm and inspirational, you have got to check it out!

Make sure to scroll through her entire feed to see how striking her transition has been since the beginning.
Like many of us, Elizabeth of @young_and_gray29 started graying at a young age. Unlike many of us, she stopped dyeing while she was still in her 20s!
Her feed is inspirational not just for young women, but for women of all ages.
Pilar of @silverlocksshining was one of my first inspirations on Instagram. Such a stunner!

If you want some guidance on getting a stylists' assistance at the start of your transition, make sure to read her early posts for some great tips!
Last but not least, Caroline from @whitehotwhitehair's feed features fantastic close-up shots of her lovely silver wavy hair and infectious smile.

If you need a quick reminder of why you are going the gray route, stop by her IG feed for a boost!
Which Gray Hair Instagram accounts do you follow?
Let me know in the comments – I'd love to hear from you!

And remember that the tide is turning in our favor. It's no longer such a big deal to publicly go gray.
Gloria Steinem once said, "One day an army of gray-haired women may quietly take over the Earth." Based on these fabulous Instagram accounts that day is almost here, do you agree?
Want to Up Your Instagram Game?
If you want to learn more on how YOU can achieve Instagram greatness, Tailwind's free Instagram 101 Webinar will walk you through everything you need to know to become an Instagram Master!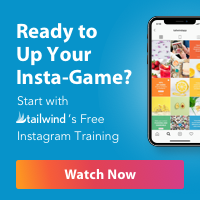 Note: All of the Instagram and other photos on this site are used with permission. Please show your support to these awesome gray hair influencers by following them on social media. You'll be inspired, I promise. ❤️
Please do me a favor and share this post to social media, as it helps me grow my audience and spread the word about our Silver Revolution! And remember to subscribe to my YouTube Channel and Pinterest Feed for more gray hair tips and product recommendations. Thanks!

Check out my Amazon Shop for all your gray hair needs!

Related Posts:

Terry's Luxurious Long Gray Hair

Nina's Naturally Lovely Gray Hair

Marci's Pixie Transition

Sandrine's Sexy Silver Hair Story